Budget, Budget, Budget. This is the one concern that every client of mine has in common, no matter what type of event it is. It is my job to give every client the most bang for their buck and everything they wish for and more while staying within their budget. While the economy may be slowly rebounding day by day, budgets are still one thing that has remained tight… especially in the meetings and events industry. Here are some of my ideas for impressive event decor on a budget.
Start with an attractive venue
A venue that contains preexisting style and class can serve as event décor in and of itself. Start with a venue that is full of color and life already, and use that to your advantage in your décor budget. Choose color schemes that complement the theme and feel of the venue or room.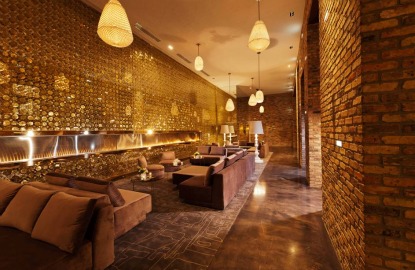 (image)
Not everything has to match
Long gone are the days of matching centerpieces. This is not to say that thought shouldn't be put into making sure centerpieces and décor complement each other, but having the same item on every table is no longer necessary to complete a room. This can impact a budget by allowing you to utilize some higher end décor pieces in particular parts of the room while simultaneously balancing that out with some budget friendly pieces. This combination will not decrease the value of the event, but will give the event space more variety.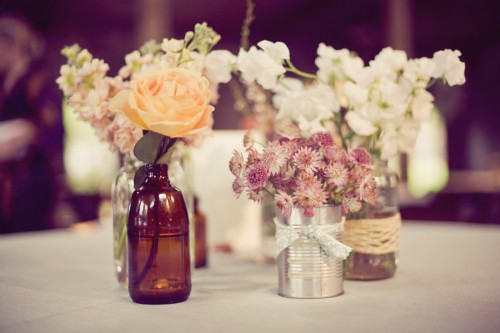 (image)
Choose one large statement
If your budget does not allow adding smaller décor elements throughout the room, you can still make a large impact with the use of one large 'WOW' factor showpiece. This is a strategic move because the piece can double not only as décor, but a great photo opportunity for your guests to enjoy. Your guests will go home with pictures they will share with family and friends after the event, thus keeping the event alive long after it is over. PEC has the ability to create these pieces for you in whatever shape, object, logo, etc. that you desire.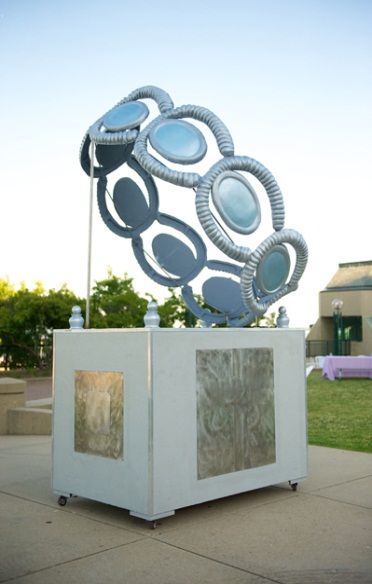 (image property of PEC)
Use your network
It still reigns true today that you get to where you are because of the people you know. Your network and relationships can have a profound impact on your budget if you utilize them appropriately. This could apply by using items and décor pieces that other groups have already used (go green!), maximizing your negotiating power with those that you have solid relationships with, or forming new relationships (with a third party events company, for example) and benefit from their already solidified relationships.
Keep it simple
Décor does not always need to be extravagant floral arrangements or over the top centerpieces. Choose the items that work best for your group and for your budget. This could mean flooding the room with uplighting, gobos, and color instead of putting physical décor elements into the room. This could also incorporate LED light shows, lit bars and tables, or acrylic décor pieces that will leave your guests in awe of your creativity and attention to detail. Use what is already necessary to your event and turn it into décor. Request creative Food & Beverage presentations instead of a typical buffet style layout. Bring your Food & Beverage elements or attendee giveaways into your centerpieces so that your table décor doubles as something that the guests can physically enjoy or take home.
Thinking outside the box is something that I have learned to master as an event planner. This not only gives my clients the unique event they are looking for, but will also ensure outstanding event decor on a budget.
This post was written by one of PEC's Event Coordinators, Nicole Putchel.
http://pecpros.com/riley/wp-content/uploads/2013/02/event-decor-on-a-budget.jpg
321
479
Professional Events & Consulting
http://pecpros.com/riley/wp-content/uploads/2012/12/PEC-Meetings-Company.png
Professional Events & Consulting
2013-02-07 14:54:03
2013-02-07 15:06:48
Event Decor On A Budget