Growing up in the Midwest definitely has its advantages. One of the many favorites is the beautiful change in seasons. Each season has its share of pros and cons. Today, we are talking about the cool fall days heading into frigid winter days and how that relates to dressing appropriately in a professional sense. It's easy to dress for a brisk walk, jog, ice-skating or sledding; however, this question arises: How does one dress professionally for colder weather?
Undergarments: Breathable fabric creates quick warmth and comfort. A blend of fabric wicks moisture away from the skin and provides lightweight warmth. For extreme weather, silk long johns will keep you warm. These are lightweight enough to not be noticed beneath clothes, but the silk blocks the wind. Dress in layers. Remember that a turtleneck that feels good outside may be too warm indoors. Tights worn instead of nylons may be warmer. Thick socks will be warmer for the men.
Outerwear: Buy a warm coat that is long enough to cover your suit jackets and big enough to wear your suit jackets beneath. Knee-length styles, mid-thigh versions, as well as calf-length versions work nicely. Ultimately, look for something sleek, versatile, and don't be afraid to splurge. Purchase the highest quality you can afford, because this coat should last you at least three years, yet preferably ten years. A scarf adds a lot of warmth and style. Gloves will help keep your hands warm because no one likes to shake someone's cold hands.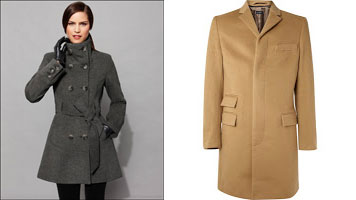 Footwear: If you must wear snow boots, make sure they are prepared for salt and slush. Sometimes a waterproof factor is likely more important than warmth. We all know that when you have wet feet, everything else will feel cold. Weather proofing spray is important to use on your footwear. If you do wear boots to work, carry your indoor shoes in a tote.
Headwear: Not every person enjoys wearing a hat. Sometimes hats ruin your hairstyle. When the weather is nasty outside, a hat can keep you warm and protect your head from wind, rain and snowflakes. There are numerous styles and fashions to choose from. Another option is styling your hair to fit a particular style hat.

This post was written by PEC's HR Director, Kris Otzelberger. You can find Kris on Linkedin here.
http://pecpros.com/riley/wp-content/uploads/2012/10/10458_3.jpg
1256
1028
PEC
http://pecpros.com/riley/wp-content/uploads/2012/12/PEC-Meetings-Company.png
PEC
2012-10-16 14:31:05
2012-11-19 21:11:40
Preparing for Colder Weather - Professionally